Trending topics
Latest News
Are you SAD?

Seasonal Affective Disorder (SAD) is a type of depression related to changing seasons. SAD affects […]

National Safety Month Week 2 – Impairment

Do you know the cost of impairment to your workplace? Check out National Safety Council's […]

How Safe Are You?

Let's continue learning about Musculoskeletal Disorders (MSD's) Listen to this mini-podcast where National Safety Council […]
Do you know what to look for when identifying heat exhaustion and heat stroke?
It is that time of year when we enjoy the summer sun at company picnics, golf outings, and volunteering with our communities. There are several safety precautions to remember while out in the sun:
Take breaks in a shaded area
Stay hydrated
Use a broad-spectrum sunscreen with a Sun Protection Factor (SPF) value of 15 or higher regularly and as directed
Heat exhaustion can quickly become heat stroke see the graphic below and know how you can help.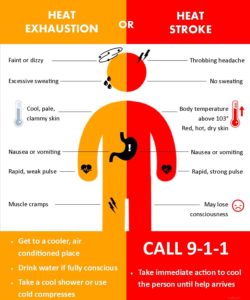 Not currently a MBWCF member – click here to learn more about how to join!