Trending topics
Latest News
Do you know the cost of impairment to your workplace? Check out National Safety Council's Substance Use Employer Calculator An Authoritative, Easy-to-Use Tool Providing Business Leaders with Information about the Cost of Substance Use.
Listen to the On the Safe Side podcast mini-episode: Workplace Impairment. Safety+Health Associate Editor Kevin Druley talks impairment with NSC Impairment Initiative Program Managers Rebecca Martin and Claire Stroer.  Listen Now >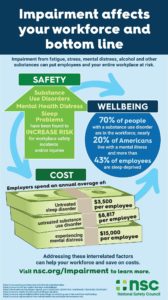 #WorkCompWednesday Not currently an MBWCF member – click here to learn more about how to join!